Historical and world famous architecture
Historical and world famous Alhambra or the dramatically located Ronda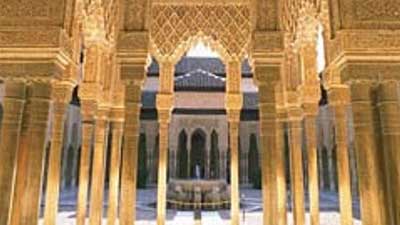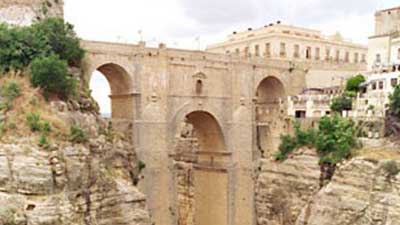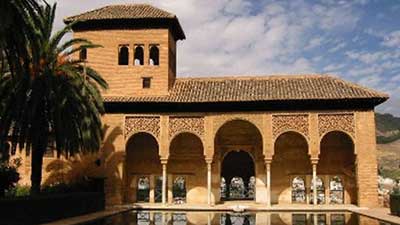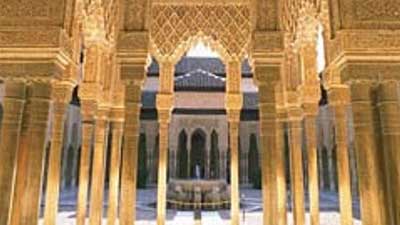 Alhambra in Gra
nada
You just have to visit world famous Alhambra, "the red castle", the amazing and breathtaking 13th century palace in the old Moorish city of Granada. It is a masterpiece of Arabian architecture and a jewel in the medieval Moorish empire. An extraordinary experience you won't forget only 2 hours by car from Marbella.
The site includes among others La Alcazaba, an impressive fortress from the 9th century and palaces like Casa Real Vieja, "old Royal Palace", Cuarto de Comares with the wonderful cedar wood ceiling with the seven heavens of Islamic religion and of course Cuarto de los Leones, the Lions court. The somewhat newer buildings include Casa Real Nueva, the Palace of Charles V, a renaissance palace built in the 16th century after the Christian conquest, by a pupil of Michelangelo.
The gardens of the Generalife
Generalife," garden of paradise", should be the everyday gardener's dream. These early 14th century gardens that border on the Alhambra are still kept in their original design.
El Albaicin
If you are going to Granada you can not miss El Albaicin, the old Moorish quarter of the city. The oldest parts are from the 11th century, and the location on a hill makes it possible to view from the rose garden of Alhambra. If you climb to the top, you have a marvellous view of Alhambra and Generalife with Sierra Nevada in the background. 
Ro
nda
If you don't suffer from fear of heights, but would love some change to the buzzing coast you have to take a trip up to Ronda. Ronda is one of loveliest and most fascinating towns in Andalucia with one of the most spectacular locations in Spain. The town sits on a mountain plateau with a plunging river gorge, "El Tajo", which divides the town. The 40 km road up to Ronda is in itself worth seeing, a winding 1 h 10 min drive from the coast, up the mountains of the Sierra Bermeja, 1700 metres above sea level.
Ronda is one of the oldest towns in Spain. Its history dates back to before Roman time and you can also find many relics of the Moorish era. La Ciudad is the old Moorish Citadel and here you clearly feel the Arabic influence. The Palacio de Mondragón from the 14th century is also of the Moorish era. The "Puente Nuevo", New Bridge, from the 18th century is 120 metres high and spans over El Tajo and is said to have house a prison once. 
Ronda is also famous for having the oldest and largest bullring in Spain. When there are no fights, the bullring is open to visitors, and houses a bullfighting museum. The town has a lot of small cafés and restaurants and is a very popular destination for day trips. Even so Ronda has been able to keep the traditional charm and peaceful atmosphere.